Lasts All Day
Fish Eyes Anti-Fog is made to last for the duration of your swim. Our product actually works, we aren't like those other guys. Our proven product keeps fog away for much longer than other Anti-Fogs. We want you to see through to the finish line.
Get yours Today
Quick and Easy Application
We deliver instant results. Spray once, rub, rinse, swim! Our bottle is easy to carry around with you wherever you go. Swim anywhere Fog-free.
Shop Now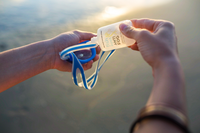 our success stories
I have been using Fish Eyes on my goggles for years now. It is a great Anti-Fog solution which lasts for as long as I am in the water swimming laps. I typically swim for up to two hours nonstop. This is the best Anti-Fog I have ever used.

Alberto M, Lap Swimmer
Fisheyes are the only goggle Anti-Fog I use. It was fantastic at the World Championships for Team USA in Switzerland, as well as the Ironman 70.3 World Championship in Nice, France. Incredible product! It helps me see the finish line at the end of a long swim.

Troy C, 25 Time IRONMAN Finisher
I am a long distance ocean swimmer and Fish Eyes Anti-Fog works my entire 2+ mile swim. It works much better than other Anti-Fog solutions I have tried over the years.

Emily B, Open Ocean Swimmer